Woooo!! Another...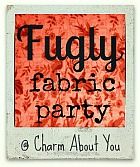 This time I am looking to swap, as mine aren't really fuglies! They are some of the leftovers of my New York Beauty quilt:
Some were from my stash, but others I bought specially for this project.
I have 3 scrap packs on offer:
Ten 10in x 10in squares, there is only one repeat in there: GONE
Forty-five 4in x 2in rectangles
Ninety-two 2.5in x 2.5in squares GONE
I will consider any swap for a similar amount of fabric.
I am particularly interested in blue and yellow pastels that might go with the fabrics in the pic below, as I'd like to do a similar quilt but in pink, blue and yellow instead of pink and grey: